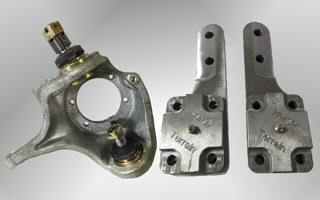 Harsh Terrain Product Warranty & Policy Information


Customer Satisfaction Is Our Top Priority

"Custom satisfaction is our top priority. If for any reason you are not satisfied please contact us via phone or email. We stand behind our products."
This Website Is Copyrighted!
The information found on this site is the property of (HT) Harsh Terrain LLC. Its copy or use in any other form without written permission is prohibited.


Off Road Products Warranties, Returns & Replacements

Product Warranties.
HT warranties our items to be free from defects in materials and workmanship prior to installation. We will warranty defective merchandise not to exceed the cost of the purchased items. If a failure occurs, and you feel it's a warranty problem, then send us the item for evaluation and testing. The warranty is non transferable. We cannot guarantee against breakage. Because our products are intended for off road use only, it is understood that these items will see extreme use and abuse by oversize tires, big horsepower or abusive situations. We will accept no liability for improper installation, misuse, abuse, misapplication, or lack of maintenance. Alteration or abuse of our products beyond their intended use will void the warranty. We will not warrant when used for racing or competition, or against related costs such as labor, time, fees, transportation or freight.
Returns & Replacements.
Harshterrain does accept returns under certain conditions. We understand that if you are not completely satisfied with your purchase, or a change is made to your custom build, then a return or exchange may be in order. We never charge a restocking fee, however, we do have the following policies:

Shipping.
HT ships 6 days a week (excluding Sundays and holidays), often the same day. Custom orders and labor (such as tapers) will add to the shipping time. HT primarily uses the US Postal Service and most items fit in flat rate boxes which they advertise fast shipping. We will not and never will use shipping as a profit method. Instead we offer free shipping on many products. For items that do not fit in a USPS flat rate box we will choose the most economical method available to the client. We will make every attempt to consolidate orders to minimize your shipping costs. Free shipping applies to the continental US only.

Information Privacy & Security
Harsh Terrain (aka HT) is absolutely committed to keeping your personally identifying information (PII) safe. By conducting business and utilizing the HT store you accept the company's terms and conditions of use. HT collects a certain amount of personal data from you when you order. We use this information to ensure accurate shipping, keeping you informed of the status of your order, and ensuring you are getting the right parts for your application. WE NEVER SHARE THIS DATA WITH ANYONE. We use a secure server to conduct business which uses SSL secure socket layer protocols.
We use only secure check out to protect your data. We never save credit card information. We never share personal information, email lists, or credit card data, Ever. We never sell email lists. We use paypal for secure credit card processing. Paypal is internationally recognized as a safe and efficient means of conducting transactions. We may see credit card data when it is entered for transactions. It is then immediately scrambled and we will not maintain it on file.
Third party links. We often endorse third parties that we trust to provide clients with superior service, information or parts. We do not share PII (personally identifying information) with these parties. HT has no control over how other entities utilize information. Other entities have their own policies that we cannot control.

Contact Us For 4x4 Parts Help
We're glad to help, call or fill out the form and we'll respond promptly!

1.-Prior approval must be given.
2.-Products must be in original condition and not installed, modified, welded to, repainted, etc. Different packaging is okay.
3.-Return postage is the responsibility of the buyer. This is an industry standard.
4.-Refunds will be made via paypal once the item is returned and inspected. We regret that we cannot refund labor for custom tapers or labor for items such as tie rods etc. Additionally, we cannot refund shipping charges as part of returns.
5.-Repalcing items damaged or lost in transit. Our job is to get you the products you asked for. But rarely items do get damaged or lost in transit. Customer should carefully inspect them upon receipt. Notify us ASAP if there are any issues. Freight damage is handled by us directly with the shipper. Understand that this could delay an order. We insure our shipments but must validate that the package is damaged or lost prior to sending another shipment. We may ask you for pictures or photos of the damaged goods or box. We will not accept COD freight charges. Also we cannot refund shipping charges as part of returns.
International Shipping.
HT offers international shipping. Free shipping offers (when advertised) do not apply outside the continental US. We will invoice for a shipping quote. Some quotes may not include customs duties, taxes, etc. The customer must be aware of those fees prior to ordering as HT will not be liable for additional charges. USPS tracking is not available in foreign countries. While we have seen reliable service with the UK, Canada, Australia, New Zealand and Western Europe, other countries such as Eastern Europe and Russia have not proven reliable for some reason. Therefore international shipping is at your own risk. Lost shipments that are insured by the USPS will only be re-shipped or refunded to the customer if approved by USPS policies.
Price matching policy.
We will make every effort to meet or beat any advertised price from our competitors as long as the following reasonable conditions apply. Price must be from a licensed company's store, internet store, catalog or advertisement. We cannot honor this policy for used goods, private party sales, opened and repackaged merchandise, or unsafe items. Price matched items must be similar in size, manufacture and quality.
Pricing & Typographical Errors.
The quality assurance and quality control of the information on our site is a high priority however typographical errors sometimes exist. In the event this happens, we will make every effort to work with the customer to their advantage. However we still reserve the right to refuse or cancel any order. Customer refunds will be made promptly and completely in the unlikely event this happens.
Safety.
Certified installers or mechanics should be used to install parts. Periodic tightening of components and maintenance is an essential part of ensuring safety. Products are intended for off road use only. Vehicle and steering modifications may not be legal in all states. Parts designed for off road use and can fail when subjected to extreme abuse or neglect. The customer must provide for their own safety by maintaining their vehicle and its systems, checking for loose nuts and bolts, using a safety belt, and providing for protection in case of rollover.